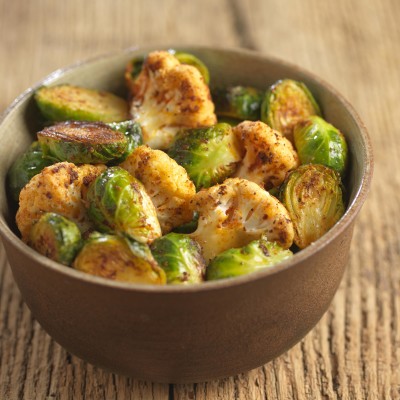 Ingredients
1 pound Queen Victoria Brussels sprouts, washed, dried, trimmed and halved
2 cups cauliflower fleurettes, washed and dried
1 tablespoon olive oil
1 teaspoon smoked paprika
1 teaspoon garlic powder
1/2 teaspoon kosher salt
1/4 teaspoon fresh-ground black pepper
Instructions
Preheat oven to 400 degrees, using the convection setting if available. Otherwise, raise oven rack to high position.
Heat large, well-seasoned, cast-iron frying pan over medium heat.
In a medium bowl, toss Brussels sprouts and cauliflower with olive oil to coat. Add paprika, garlic powder, salt and pepper and stir to distribute evenly.
Pour the vegetables in the hot skillet, turn off flame, and place pan in oven. Roast for thirty minutes, stirring every ten minutes for even carmelization.