Lyonnaise Salad with Brussels Sprouts and Spinach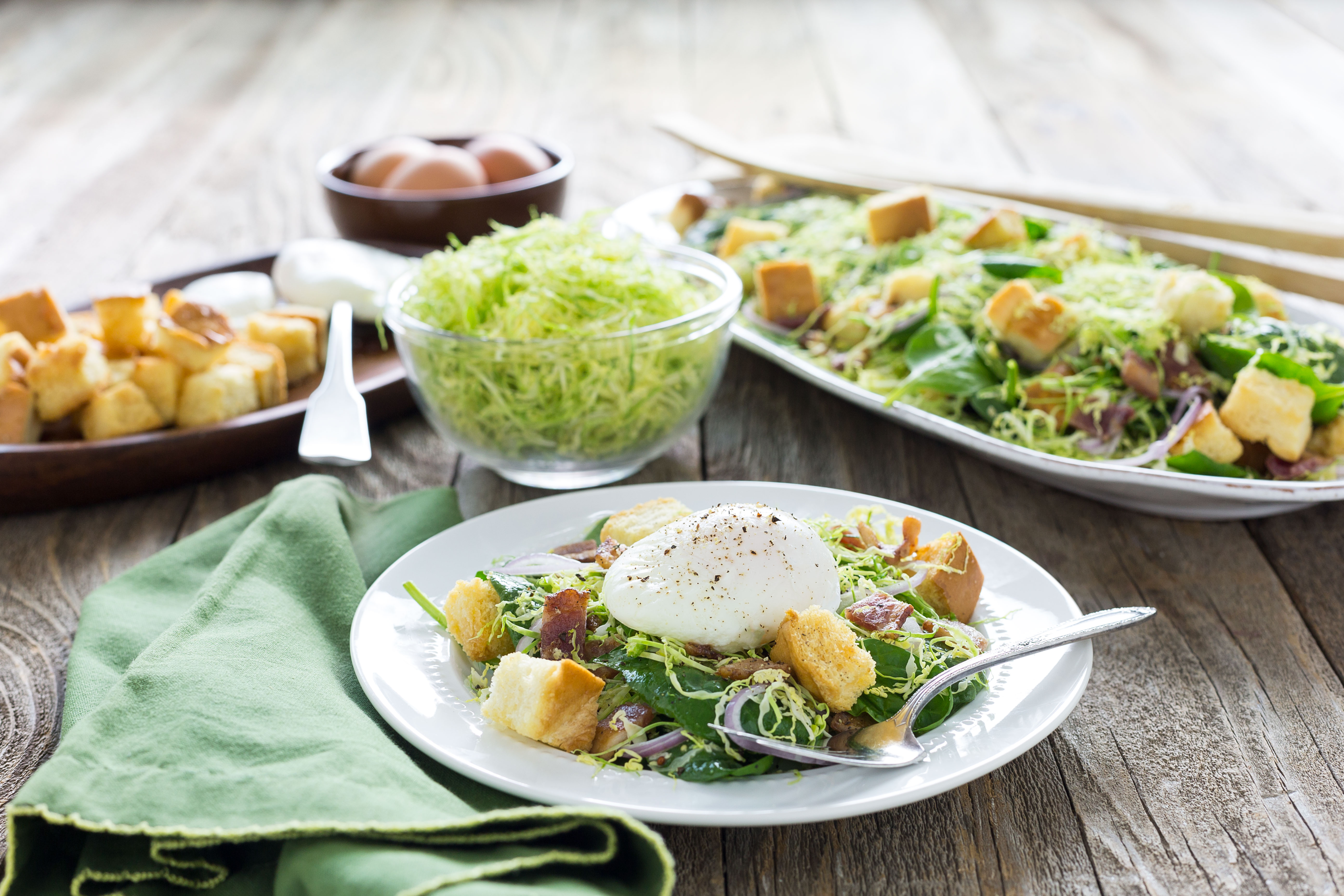 Lyonnaise Salad with Brussels Sprouts and Spinach
A delicious way to get your veggies and protein all in to one delightful dish!
Ingredients
Salad Ingredients:
4

cups

fresh spinach leaves

4

cups

Brussels Sprouts

shredded

1

medium shallot

thinly sliced into rings

6

slices

thick cut bacon

croutons

amount based on preference

6

eggs

2

tbsp

white vinegar

salt and pepper

to taste
Dressing Ingredients:
1

tbsp

smooth Dijon mustard

1

tbsp

stone ground Dijon mustard

½

tbsp

bacon fat

(reserved from cooking)

2

tbsp

lemon juice

1½

tbsp

extra virgin olive oil

salt and pepper

to taste
Instructions
Make the dressing: Cook the bacon over medium heat until crispy. Place the cooked bacon on paper toweling to drain and reserve ½ tablespoon of the fat. Add the mustards, bacon fat, and lemon juice to a large bowl. Whisk until smooth. Slowly drizzle in olive oil while whisking to make an emulsion. Season to taste with salt and pepper. Set aside.

Fill a medium saucepan ⅔ full with water. Add vinegar and bring water to a low simmer (there should just be small bubbles consistently floating to the surface). Add the eggs by first cracking them individually into a small bowl(s). Swirl the water around with a spoon to create a whirlpool. Carefully slide the eggs into the center of the whirlpool. This will keep the whites around the yolks and prevent spreading. Cook until the whites are set (about 2-2½ minutes). Remove eggs with a slotted spoon and set aside.

Compose the salad: Chop the bacon into bite sized pieces. Add spinach, Brussels sprouts, shallot rings, bacon pieces, and croutons to the bowl with the dressing. Toss lightly to completely coat ingredients. Plate the salads. Add a poached egg to the top of each salad. Top with freshly cracked pepper and serve.