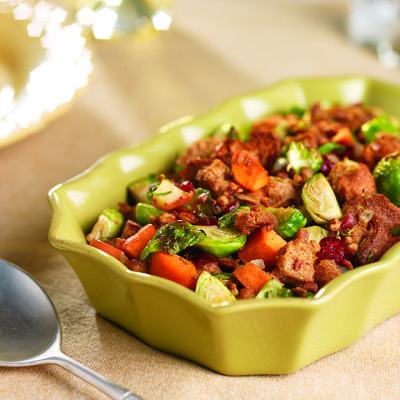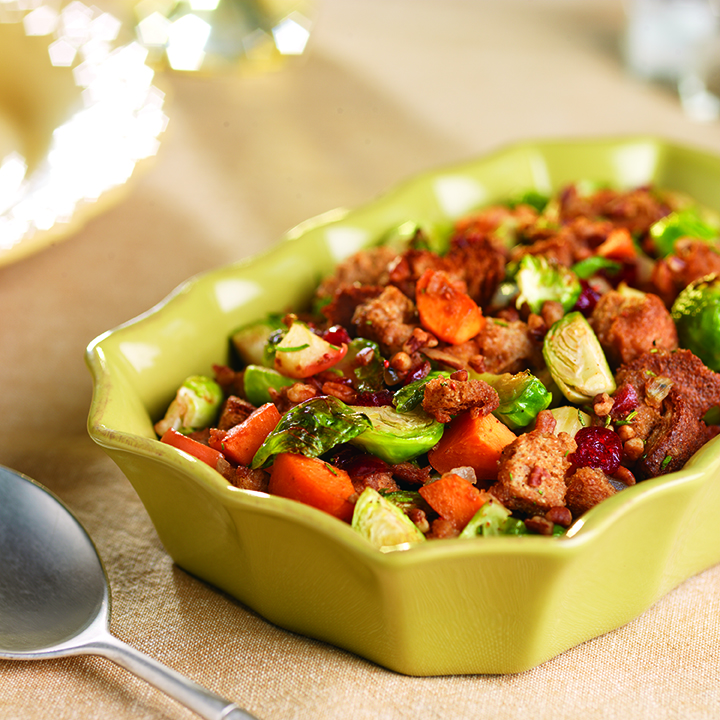 Ingredients
1 pound Queen Victoria Brussels sprouts, washed, dried, trimmed and quartered
1 large yam or sweet potato, peeled and cut to 1/2 inch dice
1 medium apple (Honeycrisp, Pink Lady, Fuji, Braeburn, cut into 1/2 inch dice
1 small onion, diced
2 celery stalks, diced
1 teaspoon fresh rosemary, chopped
1 teaspoon kosher salt
1/2 teaspoon fresh-ground pepper
1 tablespoon olive oil
8 cups whole wheat bread cut into cubes
1 1/2 cup chicken or vegetable stock
1/2 cup dried cranberries
1/2 cup pecans, chopped and toasted
2 teaspoons poultry seasoning (or a mixture of dried parsley, sage, rosemary and thyme)
Instructions
Preheat oven to 400 degrees, using convection feature if available.
Place sprouts, yam, apple, onion, celery, rosemary, salt and pepper in a large roasting pan. Drizzle with olive oil and toss to coat.
Roast mixture until veggies are soft and lightly brown. Remove pan from oven and lower temperature to 350 degrees.
Add the remaining ingredients to the pan and stir to distribute. Cover pan with aluminum foil and return to oven for 30 minutes. Remove foil and turn oven setting to broil. Broil until top is golden brown, about five minutes.