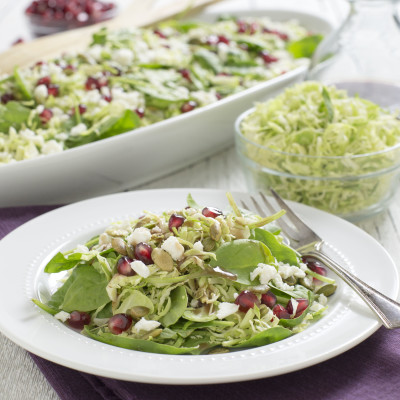 Ingredients
For the salad:
12 ounces fresh Brussels sprouts, thinly sliced
6 ounces fresh baby spinach leaves
½ cup toasted pumpkin seed kernels
¼ cup feta cheese, crumbled
½ cup pomegranate arils
pomegranate vinaigrette (recipe follows)
For the vinaigrette:
1 cup pomegranate juice
2 tablespoons sugar
1 tablespoon lemon juice
2 tablespoons apple cider vinegar
½ teaspoon dijon mustard
½ cup extra virgin olive oil
sea salt and pepper to taste
Instructions
For the salad:
Wash and dry the Brussels sprouts. Slice thinly with a sharp knife or
use a mandoline.
Add the Brussels sprouts and spinach leaves to a bowl.
Toast the pumpkin seed kernels in a dry sauté pan over medium heat
until they become fragrant and slightly darker (about 3 minutes). Add them
to the bowl with the greens. Toss the ingredients to fully combine. Add feta and toss
gently just until combined.
 Top the salad with pomegranate arils, a sprinkling of feta, and a drizzle of vinaigrette.
For the vinaigrette:
Add the pomegranate juice, sugar, and lemon juice to a small sauce pan over medium-
low heat. Cook, stirring occasionally, until liquid reduces to ¼ cup (about 20-25
minutes). Cool slightly.
Add the liquid, apple cider vinegar, and mustard to a small bowl. Briskly whisk the
mixture while slowly drizzling in the olive oil.
Add salt and pepper to taste.
Prep Time:
10 minutes
Cook Time:
25 minutes
Total Time:
35 minutes
Yield: 6 servings