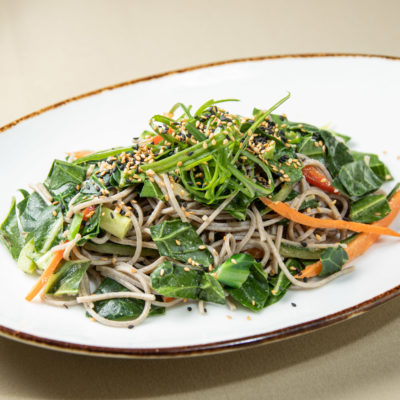 Ingredients
Salad ingredients:
4 cups chopped collard greens
½ cup carrot, julienne
½ cup red bell pepper, julienne
¼ cup English cucumber, julienne
8 each green onions, sliced thinly
¼ cup cilantro sprigs
12 oz. cooked buckwheat (soba) noodles
1 tbsp toasted sesame seeds
Dressing ingredients:
6 oz. rice wine vinegar
1 tsp maple syrup
2 Tbsp grated ginger
2 Tbsp tamari or soy sauce
2 tsp sambal (chili garlic paste)
1 Tbsp sesame oil
¼ cup canola oil
2 Tbsp creamy peanut butter
3 Tbsp water
Instructions
Cook soba noodles according to directions on package, and cool.
Add rice wine vinegar, tamari, maple syrup, sambal, ginger, sesame oil and peanut butter to blender. Blend, adding water. Slowly add canola oil. Set aside.
In a bowl, combine chopped collard greens, vegetables, and noodles. Toss with dressing and mound on plate. Top with green onions and sesame seeds, and serve.