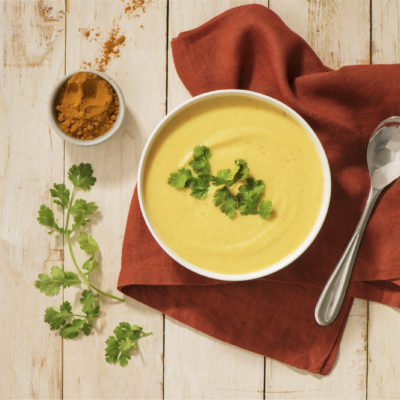 Ingredients
1 tbsp vegetable oil
1 onion, chopped
2 cloves garlic, minced
2 tsp curry paste
1 tsp minced fresh ginger
1 cauliflower, cut into florets
1 potato, peeled and cubed
6 cups vegetable broth
1 can (14 oz) coconut milk
3/4 tsp salt
1/2 tsp pepper
2 tbsp lime juice
3 tbsp Queen Victoria chopped fresh cilantro
Instructions
1. Heat oil in large saucepan set over medium heat; cook onion, stirring
occasionally, for about 5 minutes or until softened. Add garlic, curry paste and ginger; cook, stirring, for about 1 minute or until fragrant.
2. Add cauliflower, potato, vegetable broth, coconut milk, salt and pepper; bring to boil. Reduce heat; simmer for 20 to 30 minutes or until cauliflower is tender.
3. Remove from heat; purée until smooth using immersion blender.
Stir in lime juice. Sprinkle with cilantro.
Tip:
If necessary, purée the soup in batches in a blender.