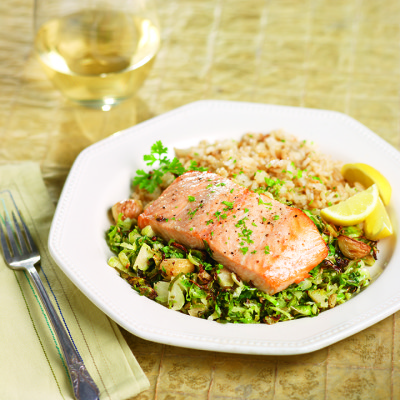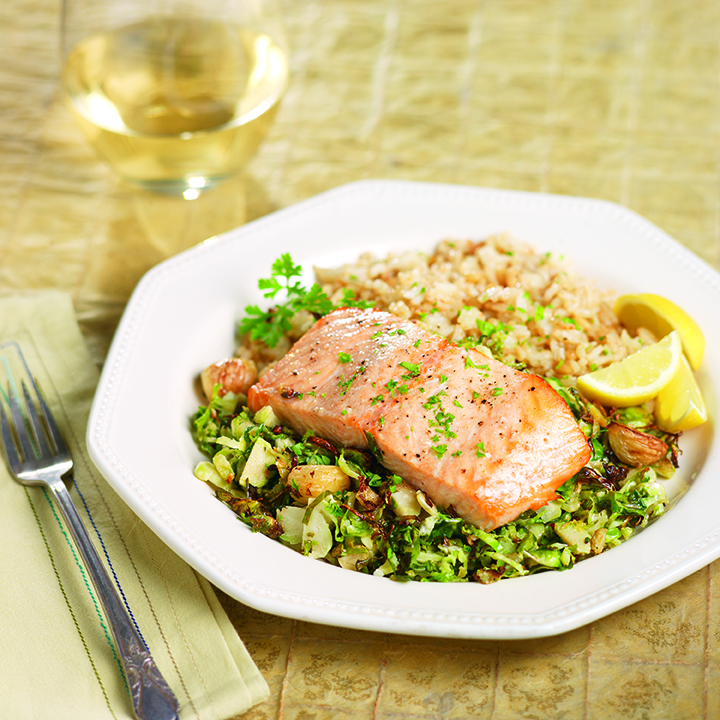 Ingredients
1 pound Queen Victoria Brussels sprouts, washed, dried, trimmed and sliced
10 whole cloves garlic, peeled
1 tablespoon olive oil
1 teaspoon kosher salt
1/2 teaspoon fresh-ground pepper
4 fresh salmon fillets (about 5 oz. each) with skins removed
1/2 cup dry white wine
1 tablespoon chopped fresh parsley
1 lemon cut into wedges
Instructions
Preheat oven to 400 degrees, using convection feature if available.
Place garlic and Brussels sprouts in large roasting pan. Toss with olive oil and season with salt and pepper. Roast until golden brown, about 25 minutes, stirring occasionally.
Remove pan from oven and place salmon fillets on top of sprout mixture. Drizzle wine over fish and sprouts mixture. Turn oven to broil and return pan to oven.
Cook 5-10 minutes, until salmon is lightly browned on top but just barely cooked through. To serve, sprinkle with parsley and add lemon wedge.