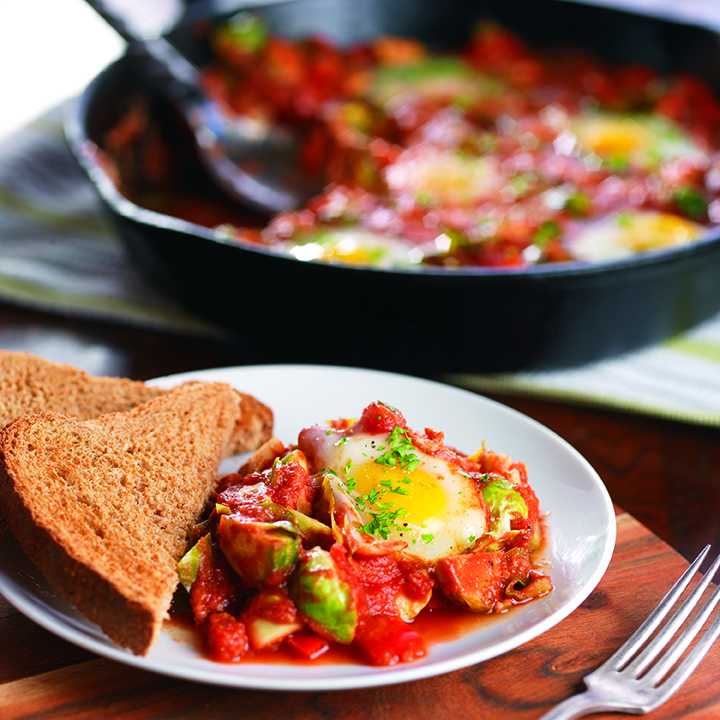 Ingredients
1 pound Queen Victoria Brussels sprouts, washed, dried, trimmed and quartered
1 small red bell pepper, seeded and cut to 1/2 inch dice
1 medium shallot, peeled and slivered
1 tablespoon olive oil
14 oz. canned, chopped tomatoes
14 oz. canned tomato sauce
1 tablespoon harissa (Tunisian pepper paste available in international markets)
1 teaspoon cumin
1/2 teaspoon kosher salt
1/4 teaspoon fresh-ground pepper
6 large eggs
1 teaspoon fresh parsley, minced
Instructions
Warm olive oil in a large skillet over medium flame. Add Brussels sprouts, bell pepper and shallot and cook, stirring occasionally, until tender and lightly browned.
Lower flame to medium-low and stir in all remaining ingredients except eggs. Cook sauce for 15 minutes.
With the back of a large spoon, make six small indentations in sauce. Crack an egg into each well (don't worry if egg white overflows a bit). Cover pan and simmer for 5-10 minutes, until eggs are gently cooked with yolks remaining a bit runny. Sprinkle with parsley and serve for brunch with crusty bread or toast.